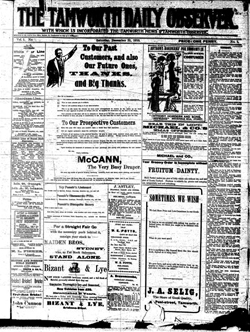 Tamworth in 1872 had two newspapers - Tamworth Examiner and Tamworth News.

A series of libel suits between these papers forced the closure of the Examiner in 1877.

A bi-weekly, The Tamworth Observer began publication in 1875. In 1910 the proprietors of the two newspapers, Albert Joseph and G A Codrington came to an agreement to combine their resources and publish a daily newspaper.

Under the deal, Mr Codrington sold The News to the Tamworth Newspaper Company and Mr Joseph was appointed managing director of The Tamworth Daily Observer.

On January 1, 1921 the paper was renamed as The Northern Daily Leader. August of 1928 saw The Northern Daily Leader become the first country newspaper in Australia to install photographic block making equipment and four years later the first to install a teleprinter.

Mr Albert Joseph passed away in 1947. He had been recognised as the father of The Leader, as a man whose insight and devotion had turned another country rag into one of Australia's best provincial newspapers.

His position of managing director was handed to his son Harold on September 29th of that year.

On August 17, 1971, the world wide publishing group News Limited acquired a large number of shares and 1975 saw The Leader change from a broadsheet to its present tabloid size presentation.

By the end of 1979 News Limited wholly owned The Northern Daily Leader and did so until February, 1987 when the company was sold to The John Fairfax media group.

The move saw The Northern Daily Leader become part of the Rural Press Group, under the wing of Regional Publishers.

The Northern Daily Leader is a unique regional daily newspaper.

No other regional daily in Australia covers such a vast circulation area which includes nearly 20 local government areas.

Its boundaries extend to Tenterfield in the north, Moree in the west and Murrurundi in the south.

Its circulation reflects its importance as a regional newspaper with approximately 40 per cent of its sales being achieved outside the city of Tamworth.

This relationship with city and region means the Leader's editorial content must not only reflect the affairs and events of Tamworth but also many of the other centres within its circulation area.

The Northern Daily Leader also publishes a weekly agricultural newspaper called the Country Leader which is inserted in other newspapers across the region, and The Tamworth Times, a free weekly circulated in Tamworth.
The Tamworth Daily Observer.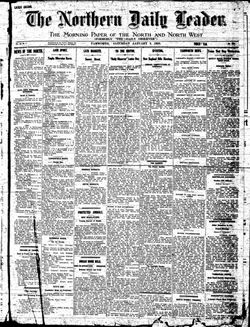 The Northern Daily Leader.